In creating Wharton GFA, we have established a unique global institution that allows global families to transcend traditional boundaries of nationality, religion, and geography, to collaborate together for mutual benefit and the benefit of society as a whole. Wharton GFA highlights how families can impact the societies in which they transact via the social wealth that their enterprise creates: increases in employment, productivity, national competitiveness, and economic and social advancement. This is the first global family program of its kind, with focused efforts on research and sharing of best practices with regard to the social impact that global families have worldwide. Wharton achieves competitive advantage by being the center for global families by offering a wide variety of outreach programs, a robust curriculum, and a vigorous research agenda to a global audience.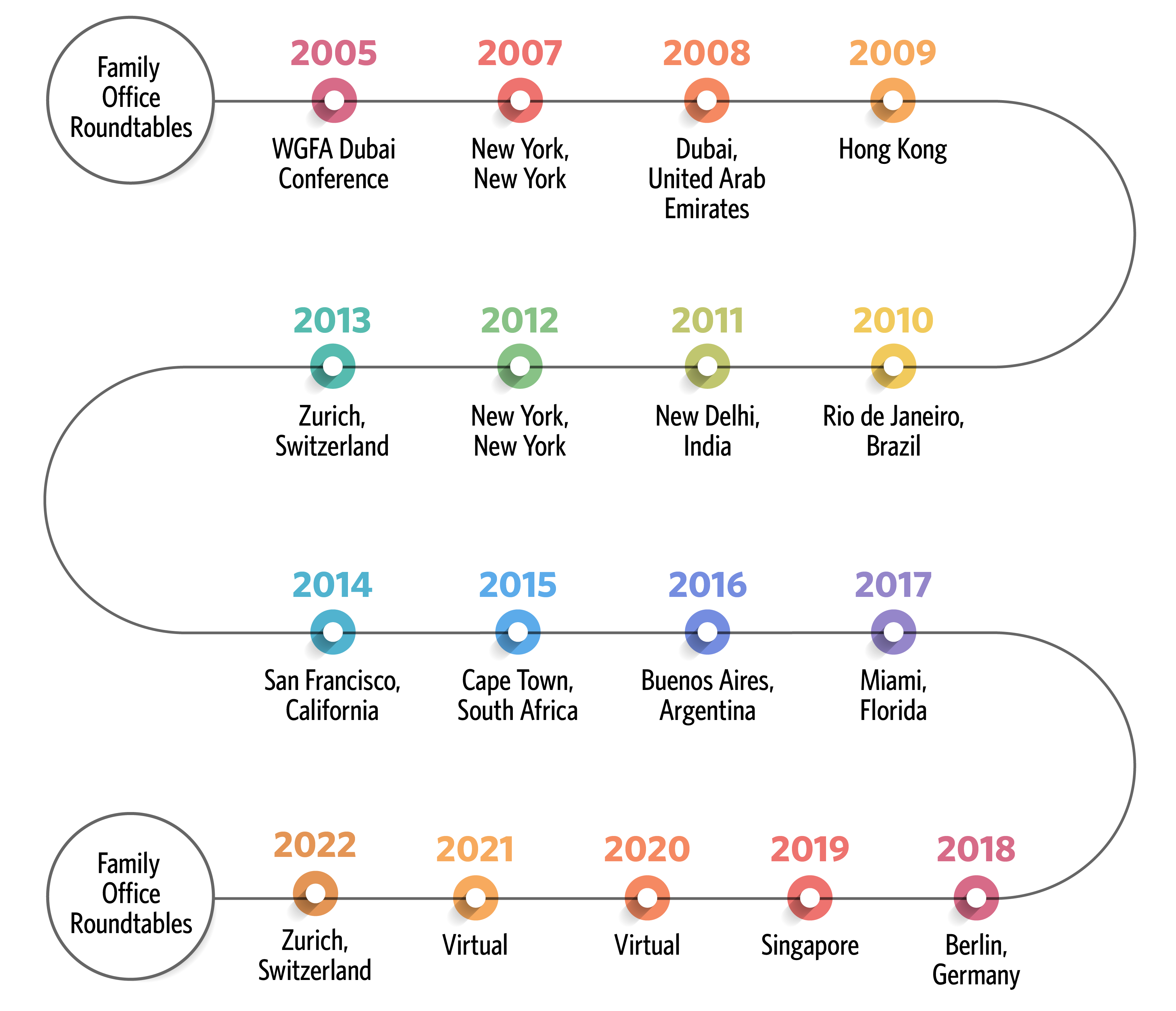 Family Office Roundtable (FORT)
The Roundtable is a forum for inter-family knowledge transfer. It is a gathering for very wealthy, sophisticated families/family offices with diverse global portfolios to candidly share knowledge and expertise in a vendor-free environment of openness and trust. Dating back to 2004, there have been eighteen in-person Family Office Roundtables, which have taken place in Europe (Zurich, Vienna and Berlin), the United States (New York, San Francisco and Miami), the United Arab Emirates (Dubai), Asia (Hong Kong, New Delhi and Singapore), Latin America (Rio de Janeiro and Buenos Aires), and Africa (Cape Town). The Roundtables in 2020 and 2021 (FORT XIX and FORT XX) were hosted virtually due to the global COVID-19 pandemic.  Family participants in FORT have amassed their wealth from diverse sectors of the global economy and come from Europe, the U.S., Asia-Pacific, India, Africa, the Middle East, and Latin America. This global base is crucial given how much of the Roundtable's family capital is being invested outside of each family's "home" market.
Wharton GFA Partners
CCC Alliance
The Wharton School has chosen to partner with the CCC Alliance for the establishment of the Wharton GFA. The CCC Alliance provides a proven model of success in delivering value to a peer network of prominent families. Laird Pendleton, the Founder of CCC Alliance, is Chairman of the Wharton GFA Advisory Board. The CCC Alliance knowledge base (manager database, asset allocation surveys, family office issues, etc.) is integrated with the Wharton GFA research agenda. CCC is the largest private network of families with family office scale wealth in the U.S. A robust peer network of over 100 leading families from 30 U.S. states and eight countries, CCC is in its 16th year of operation and growing at the rate of one new member per month. Full-time professional staff with substantive financial services expertise and graduate degrees in business.
Northern Trust Corporation
Northern Trust Corporation (Nasdaq: NTRS) is a leading provider of wealth management, asset servicing, asset management and banking to corporations, institutions, affluent families and individuals. Founded in Chicago in 1889, Northern Trust has offices in the United States in 19 states and Washington, D.C., and 23 international locations in Canada, Europe, the Middle East and the Asia-Pacific region. For more than 125 years, Northern Trust has earned distinction as an industry leader for exceptional service, financial expertise, integrity and innovation.
Ernst & Young
EY exists to build a better working world, helping create long-term value for clients, people and society and build trust in the capital markets. Enabled by data and technology, diverse EY teams in over 150 countries provide trust through assurance and help clients grow, transform and operate.  Working across assurance, consulting, law, strategy, tax and transactions, EY teams ask better questions to find new answers for the complex issues facing our world today. As trusted advisors to enterprise-owning families around the world, we have the experience, authority and programs to support families to grow from generation to generation.
Wharton MBA Family Office Club
The Wharton Family Business Club is dedicated to promoting awareness and dialogue among students interested in family business. Family business is the dominant paradigm for business worldwide, and Wharton draws a large number of students from around the world who come from family business backgrounds. The Mission of the Family Business Club is to provide a forum for Wharton Students to explore family business issues, develop ties to major family-controlled enterprises, and participate in Wharton's ongoing academic research in the area of family business.
General Inquiries
Nadia Kiyatkina
Associate Director
Wharton Global Family Alliance
215-573-1333
Press Inquiries